Product: A.H. Beard Origins Mattress Collection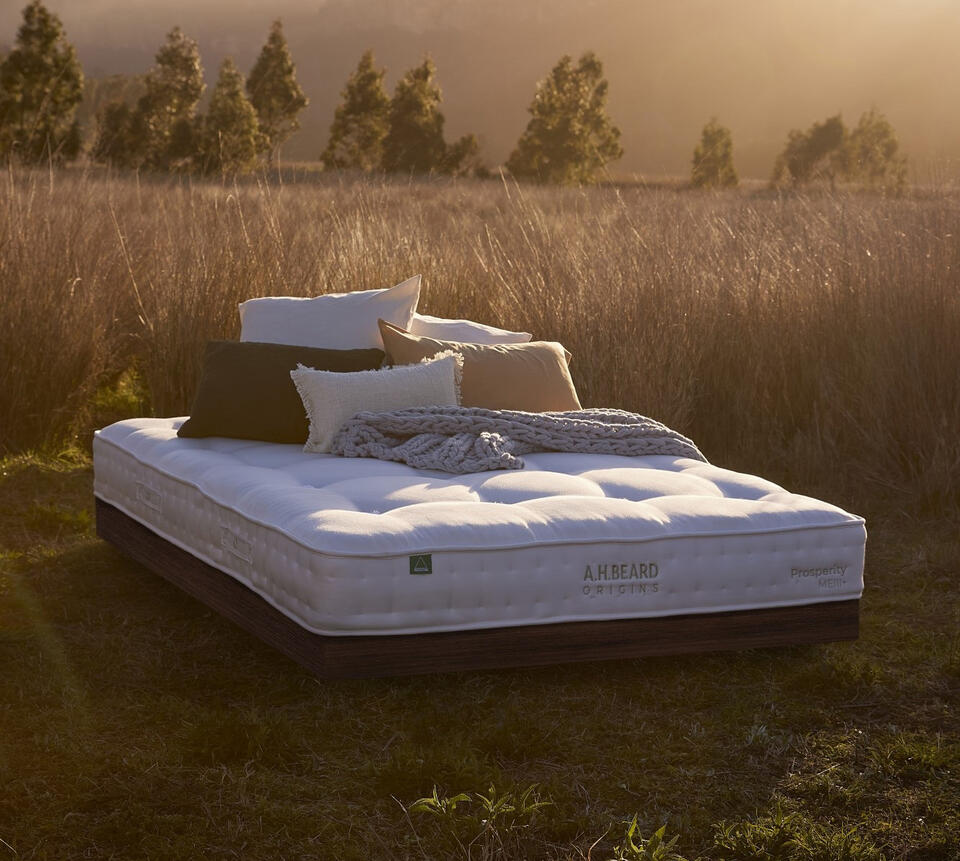 About
A.H. Beard Origins Mattress Collection
TOP 3 Benefits
No Toxic Impact
Healthy VOC Level
Manufacturer Take Back Policy Verified
A.H. Beard 'Origins' is a mattress range designed with sustainability at its core. Every component, every process, every partner has been carefully considered and selected based on their sustainability and ethical sourcing credentials.
A.H. Beard has partnered with like-minded businesses who are committed to sustainable innovation, and selected materials that are not only good for sleep but are sustainably grown or produced and 100% recyclable. The range features the world's first 100% recyclable pocket spring support system; wool – which is naturally temperature regulating; and fabrics made from Tencel® and organic cotton. Each mattress is hand-sewn and secured with cotton tufts attached with Kevlar® reinforcing. This glue-free construction makes it easier for the various components to be separated for recycling at end-of-life.
A.H. Beard has endeavoured to source local components wherever possible, inlcuding single source Australian, wool and cotton to support local industry and communities. As a fourth-generation Australian family-owned business, A.H. Beard is committed to securing ongoing employment for its over 400 team members for years to come. Bucking the trend of increased automation, the handmade nature of the Origins mattress collection has resulted in expansion and upskilling of the A.H. Beard workforce. A.H. Beard also has product stewardship scheme to take back the product after used.
Achievements:
Health & Ecotoxicity
Healthy VOC levels
No toxic impacts
Corporate Social Responsibility
≥10 year warranty
All marketing environmental claims verified accurate
Complies with Australian law
Fit for Purpose certified
Manufacturer take back policy
Manufacturer take back policy (verified)
Replacement parts available
Ratings Tools
Green Star AU - GBCA
IS Rating - ISCA
LEED - USGBC
WELL Features - IWBI
More information:
The product is GreenTag GreenRate Level A Certified under Scheme A7.
The scope of certification includes A.H. Beard Origins Mattress Collection.
Issues of Concern/Red Lights (if needed) The products have successfully passed the relevant GreenTag Standard's Cautionary Assessment Process and no issues of concern or red lights comments exist regarding the toxicity of the products.
---
Rating tools relevance:
Green Star® "Design & As Built v1.3" and "Interiors v1.3" Rating Tools Credits:
IWBI® WELL v1.0 Features (PHD™ Available):
Recognized for Features:
Feature 26 (Part 1)
Feature 97 (Part 1)
Compliant Technical Document (Audited) for Feature/s:
IWBI® WELL v2.0 Features (PHD™ Available):
Recognized for Feature/s:
X07 (Parts 1, 3)
X08 (Part 2)
Compliant Technical Document (Audited) for Feature/s:
X06 (Part 2)
X07 (Part 2)
X08 (Part 1)
LEED® v4.0 and v4.1 Rating Tool Credit (PHD™ Available):
MR Credit: Building Product Disclosure and Optimisation - Material Ingredients
Option 1: Material Ingredient Reporting and,
Option 2: International ACP - REACH Optimization
How will you use GreenTag?
Manufacturers:
Make your product stand out, unlock the barriers to major markets.
Get Global GreenTag certification to stand out as a leader, differentiate your product from the pack and win in the rapidly expanding green marketplace.
Green consumers:
Create your own healthy, sustainable home, interiors and lifestyle.
Discover our work with the Beauty & Personal, Cleaning and Building & Interiors industries or find out more about GreenTag.
Global GreenTag certified products pass the world's toughest standards to protect you, and your family's health and safety, minimise your impact on our finite planet and put the power of selection back in your hands.
Professionals:
Save time and money selecting products that deliver and protect your business from risk.
Find out how Global GreenTag certified products pass the worlds toughest standards for health, eco performance and safety.
Recognised by major green rating schemes, GreenTag is your one-stop certification to choose or evidence product selections.