Product: GreaseShield® range grease interceptor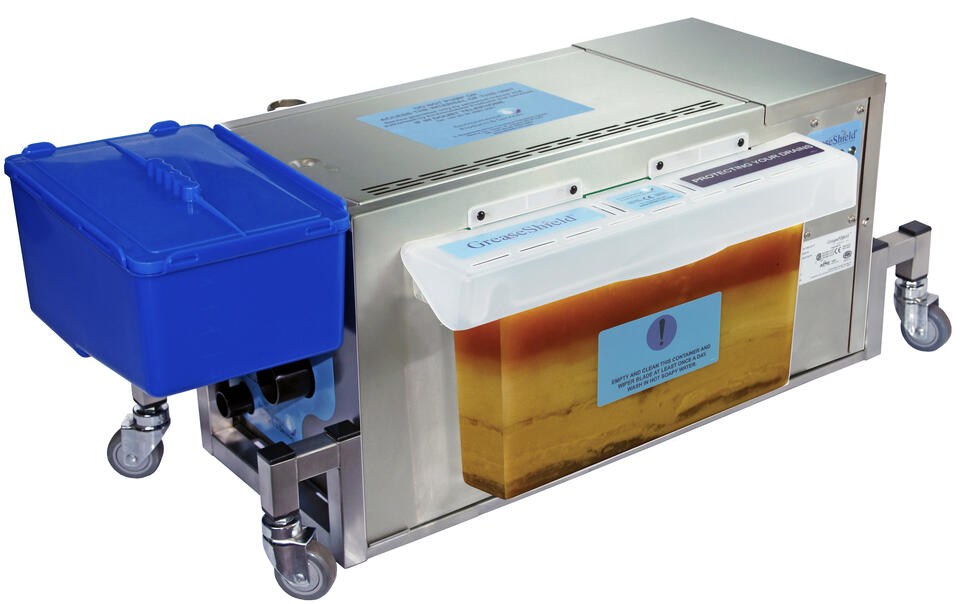 About
GreaseShield® range grease interceptor
TOP 3 Benefits:
Health & Ecotoxicity
Recovers fats, oils and greases
Take Back Scheme
Environmental Products and Services Ltd (EPAS)'s GreaseShield® Range Grease Interceptor  cleans waste water by separating and recovering fats, oils and greases (FOGs) using patented technology and inherent waste thermal energy in the effluent. Suitable for restaurants, cafeterias, hotels, schools, hospitals, commercial buildings, food processing plants and any context that requires a grease trap. The products can prevent blockages in drains and protects pumping stations as significantly reducing the loading on waste water treatment plants. Frequent pumping costs are eliminated. The unit produces recyclable FOGs that can be used to manufacture biodiesel or to replace other oil-stock feeds.
Achievements:
Building/Product Synergy
Makes building & other systems more efficient
Health & Ecotoxicity
Low toxicity - no toxicity in use
Life Cycle Analysis - Water
Water footprint available
Life Cycle Analysis - Resources
Designed for recycling or reuse
Life Cycle Analysis - Greenhouse Gas
Carbon footprint available
Corporate Social Responsibility
≥15 year warranty
All marketing environmental claims verified accurate
Certified Environmental Management System
Complies with relevant social and environmental laws of the country of operation
Fit for Purpose certified
Manufacturer take back policy
Replacement parts available
Rating Tools
More information:
GreaseShield® Range Grease Interceptor has been compared to an industry standard conventional grease trap product which serves as the business as usual for grease trap product category. The life cycle inventory data compiled for the BAU product was obtained from industry study. A representative model is chosen to conduct LCI, dimension of 836mm x 359mm x 330 mm, total mass of 27.29kg.
The scope of certification includes GreaseShield 1000 with Front Loading Filter, GreaseShield 1000 AST, GreaseShield 1000 Low Level with Front Loading, GreaseShield 1850 AST WOK, GreaseShield 1850 Low Level with Front Loading Filter, GreaseShield-CRM-4, GreaseShield-CRM-8, GreaseShield-CRM-8-F, GreaseShield 1850 Dual with PreFilter, GreaseShield 1850 Dual with PreFilter, GreaseShield 1850-ECO, GreaseShield 1850-ECO-S, GreaseShield 1850 AST with PreFilter, GreaseShield 1850AST-CRM-4- F, GreaseShield 2000 with PreFilter, GreaseShield®3000-F, GreaseShield®3000-DW and GreaseShield®4000-F.
The products have successfully passed the relevant GreenTag Standard's Cautionary Assessment Process and no issues of concern or red lights comments exist regarding the toxicity of the products
---
Certified under:
Global GreenTag Standard v3.2
Rating tools relevance:
GreenStar 'Design and As Built v1.2' and 'Interiors v1.2' Rating Tools Credits:
o Sustainable Products Level A
GreenStar ' Performance v1.2' Rating Tools Credits:
o Procurement and Purchasing: Refurbishment Materials
How will you use GreenTag?
Manufacturers:
Make your product stand out, unlock the barriers to major markets.
Get Global GreenTag certification to stand out as a leader, differentiate your product from the pack and win in the rapidly expanding green marketplace.
Green consumers:
Create your own healthy, sustainable home, interiors and lifestyle.
Discover our work with the Beauty & Personal, Cleaning and Building & Interiors industries or find out more about GreenTag.
Global GreenTag certified products pass the world's toughest standards to protect you, and your family's health and safety, minimise your impact on our finite planet and put the power of selection back in your hands.
Professionals:
Save time and money selecting products that deliver and protect your business from risk.
Find out how Global GreenTag certified products pass the worlds toughest standards for health, eco performance and safety.
Recognised by major green rating schemes, GreenTag is your one-stop certification to choose or evidence product selections.